OBS Customer Database explained

So you want to implement new business software and have decided to switch to Odoo. Now you want to learn more about this software's implementation process and implementation partners. However, authentic reviews are hard to find. Not to worry. At OBS Solutions, we want to make it easy for you with our new customer database. Take some time to review best-practice Odoo implementations.
Discover the benefits of our new customer database now.

Implementing new software is always a big break in everyday business. Whether a small start-up or an established large corporation, every company is interested in mapping and improving as many business processes as possible with the new software. The implementation phase should not interfere with day-to-day business, and employees should be trained efficiently on how to use the new software, so they can quickly hit the ground running. At this point in the planning process, many ask themselves these questions:

How did others do it?
Where can I find authentic reviews?

What are the obstacles to expect?

Which customization options are possible?

How is the collaboration with the implementer?

Of course, as an implementer, you also want to show your successes. So, we have compiled a detailed account of all our projects, which you can find in our customer database.

We created our customer database to answer many of the questions people ask when migrating to new software and to concisely outline our approach as Odoo implementers. Here, you will find core information on customers for whom we have successfully implemented Odoo. For each Odoo project, you will find a summary of the most important points. We want to represent our entire customer experience so that you will find new and old projects in this database. Our customer database fills up gradually.
The long search and digging through texts have come to an end with the OBS customer database – see everything at a glance!
On the overview page, you will find a short preview for each reference, followed by the most important key data: the countries and industries in which the customer operates, the number of employees in the company, and the business areas covered by the Odoo implementation.
Everything is briefly and concisely summarized in one place. Here, you will find best practice examples and authentic customer reviews with valuable insights into implementation projects. That's what our OBS customer database offers. Take advantage of the possibilities of our overview page:

Browse through our customer references—the information is displayed in alphabetical order.

Find specific results using search terms if you already know what you are looking for.

Set filters using the drop-down menu in the search bar to narrow your results. Combine different filters as you wish. Multiple selections for each drop-down menu are supported: industry, business scope, company size, and country. You can also set filters in different categories.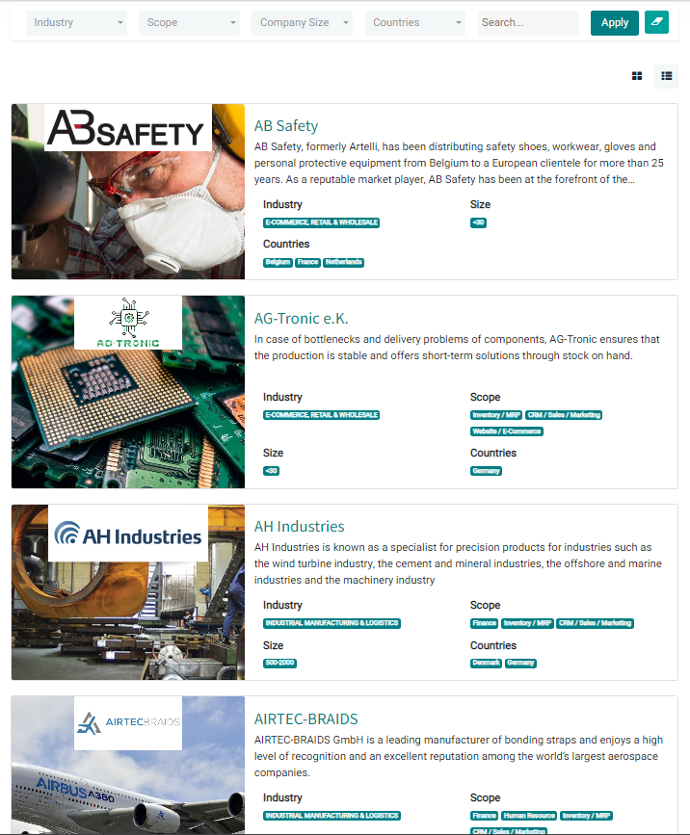 Review individual projects and get valuable details and inspiration. Every Odoo project is different. However, to maintain clarity, the detail pages are structured identically:

On the Detail pages, you will find a brief description of the company, as well as an outline of the Odoo implementation process.
Under the "Challenge" section, you will find customer-specific challenges, requirements, and restrictions. Discover the best approaches for each customer in the "Solution" summary. In the "Business Benefits" section, you will find the positive results of the company's migration to Odoo and the collaboration with OBS Solutions.

Discover the OBS customer database now!

Browse over 300 successful Odoo projects for large blue-chip customers and SMEs worldwide.

---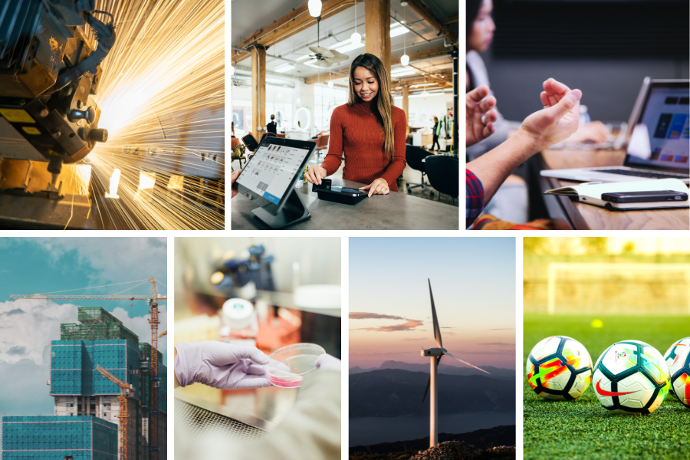 OBS Industry Overview

Every industry has its own needs and requirements, which may differ from one industry to the other. There are business areas you absolutely need for your industry, while others are less useful. That's why we developed the Odoo Industry Solution. The Odoo Industry Solution summarizes the most important business areas and offers all modules, apps, and tools directly tailored to your industry.

OBS Industry Solution Overview
Odoo Solution by Feature

Odoo is an integrated software solution that can handle most business processes in a single system. Odoo's flexibility is unmatched in the market. No matter how complex and multi-layered a business is, Odoo can adapt to the business's unique needs and budget.

Odoo's top Features Overview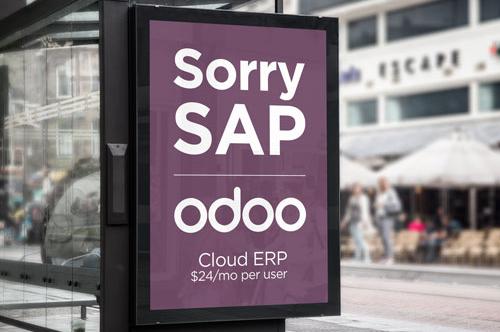 Odoo Solution by Software

Learn important differences between Odoo and MS Dynamics, SAP Business One and NetSuite in our software comparison. Our software comparison highlights what distinguishes Odoo from these other software solutions.

selected Migration Approaches Overview
Discuss your requirements with our Odoo experts in a direct and uncomplicated way.
Discover industry solutions, solutions by business scope, or individual solutions for your Odoo project.