Odoo Marketing
Odoo offers you a whole lot in terms of Marketing and communication functionalities and allows you to manage all your Marketing campaigns within one integrated software. No matter if you are focusing on mass mailing and newsletter campaigns, social media campaigns or your website - Odoo offers all those features and functionalities. 
Website Builder
The Building-Block system of the Odoo Website Builder lets you create and edit your website design in the frontend via a drag & drop functionality - no coding skills required! 
Create multiple websites with individual domains and URLs. Use the Link tracker to share your websites on Social Media and track the clicks you get.
Design features: Bootstrap based templates let you design your own Odoo templates with clean HTML structure and bootstrap CSS. The fluid grid layout lets you create a layout corresponding to the devices on which the website is displayed. Use professional themes and change your theme in a few clicks, choose from several themes in Odoo's catalog of ready-to-use themes available in the app store.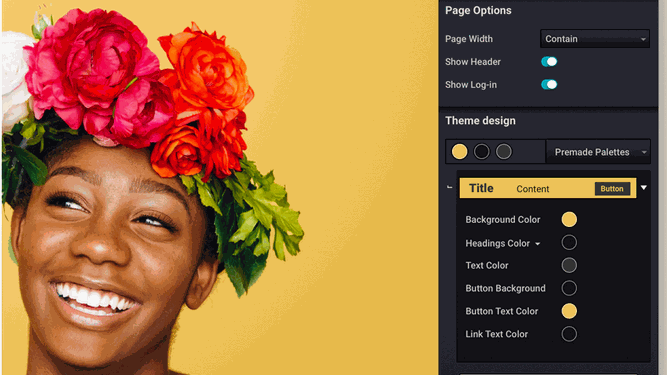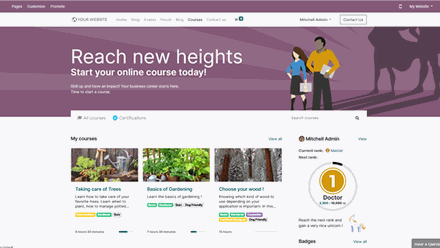 Integration of Odoo Website with other Odoo Apps
Blog: Add a blog section to your website to publish content regularly


E-Commerce: Add a Webshop and sell your products online


CRM: Visitors information (from contact form, chat or online appointment) is directly captured in Odoo CRM and create a new chance


eLearning: Offer free or paid online courses via your website, which will serve as learning platform for your participants


HR: Publish your open job positions on the website


Events: Organize, promote and sell events online


Google Analytics: Connect your GA account with Odoo and view your website's statistics directly in Odoo
Customer Portal
The Portal access allows your customers to view, confirm and sign their quotations or sales orders, and lets them pay invoices directly online. The customer can track their order status, project tasks, invoices, submitted tickets, subscriptions and payments through their account on your website.
Several payment methods are embedded that allow your customers to pay on the Customer Portal or your eCommerce website. They can choose their favorite payment acquirers, including online payment providers that accept Credit Cards, e.g.: 
Bank payments: Wire Transfer or SEPA direct debit

Online Payment Providers: Adyen, Alipay, Authorize.Net, Buckaroo, Ingenico, PayPal, PayUMoney, SIPS, Stripe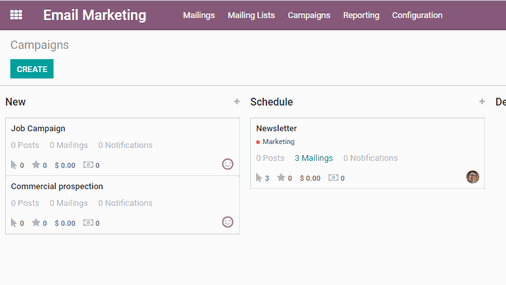 Email Marketing: Newsletter & Mass Mailing
Design your Newsletters as you like - you can insert pre-made building blocks per drag & drop to structure or customize your email content. Insert headers and footers, calls-to-action, images, links to your website or other content (and use link tracker to track performance).
Several themes are available, or you can create your own design. Save your design as template and reuse it for future campaigns. 
Campaign Management

Import contacts either from Odoo or import an Excel- or CSV-file. You can create several mailing list and assign one contact to several lists. Schedule a timer for sending your email campaigns and Odoo will send them automatically. Don't forget to test your mass mail by sending a sample to a selected email address (A/B testing).
The Opt-out functionality allows recipients to opt-out from mailing lists themselves or you can manually add them to a blacklist to receive no future mailings from you.Track the performance of your campaigns directly in the mailing and view who opened the mailing or find out why a mailing got bounced.
Odoo lets you also measure the revenues you generated from your Marketing campaigns. Follow your opportunities through Odoo CRM and analyze the conversion rate, the expected revenue and the generated revenue of each of your campaigns, and use different filters for more in-depth analysis. 
Marketing Automation
Campaign Management 
Odoo's Marketing Automation opens a whole new range of possibilites: You can create and customize workflows with a visual interface to better envision your customer journey. Get your contacts following one path or another based on an action in your workflow (email opened/clicked/replied). It lets you segment your customers in your database using demographic and behavioral attributes, meaning your contacts will be enrolled to the campaign as soon as they meet the criteria you set. 
Track your campaign's performance with KPIs such as open or bounce rate, clicks and deliverability. 
Triggers can be e.g.:
Time-based conditions (delays between the workflow actions)

Email interactions: trigger next action after interaction with your mass mailing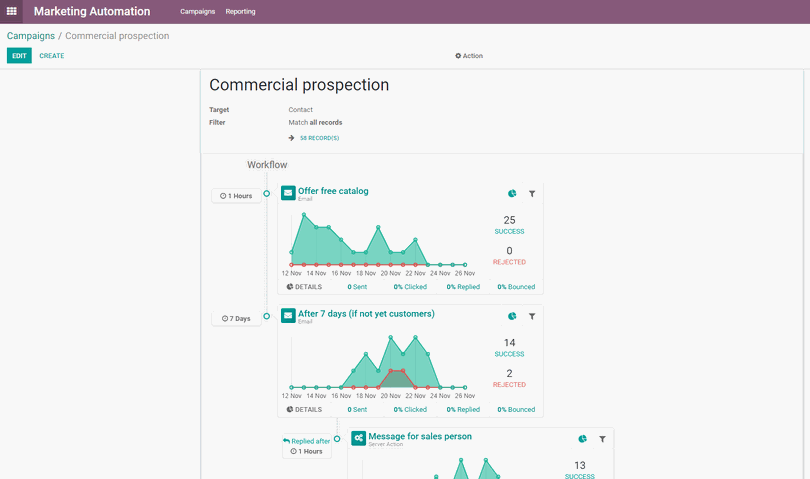 Automations
Odoo Marketing Automation does a whole lot of work for you: Simply automate your workflow by sending specific (mass) mailings or emails at a specific time, or once a specific condition has been met. Of course, you can create and add several email templates to your campaign
By executing Python code, you can create custom server actions (e.g.: Lead will be moved to another stage once mailing has been opened/clicked). You can also update a record upon a specific action/trigger.
You can also send automated SMS to your customers - e.g. informing them that their order has been shipped. 

Manage your Social Media posts
Odoo's Social App lets you send & Schedule Posts for platforms like Facebook, Twitter, and LinkedIn, or send web push notifications to your website's subscribed visitors. By adding streams (e.g. Facebook and Twitter), the dashboard helps you monitor your accounts, interact with your community, and get insights on your posts's performance. 
Create fully integrated campaigns that include emails, SMS, push notifications and social posts and track your campaign's results in terms of clicks, revenues, leads created and sales. Track the revenues and leads generated from a link/post and receive instant information about how much revenue that link generated. 
Create several recipients lists, just like in Email Marketing, schedule a time and date for sending your SMSs and let Odoo send them automatically. Opt-out link for recipients included in the messages. The SMSs you send are paid with credits that you can buy directly in your Odoo database (IAP) (more details for SMS pricing here).

Track the performance of your campaigns by KPIs such as: 
Undelivered SMSs

Delivery rate, click rate, bounce rate

Measure your revenues through Odoo CRM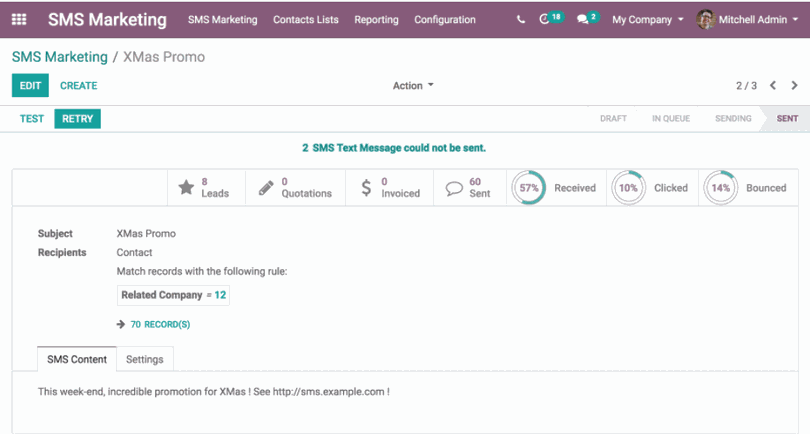 Book a free Demo and find out how Odoo's Marketing Apps can boost your business.
Schedule your appointment today.