OBS Klanten Referenties

Kom erbij en neem de volgende stap in de groei van uw business.
Implementing new software is an unknown challenge for any company. Thankfully, you can benefit from the large number of Odoo customer references. Odoo is used in a wide range of fields. Top companies trust the powerful software. Gain impressions and inspiration for your Odoo project. Discover solutions from the experience of more than 10 million Odoo users.
Find out if industry-specific solutions are right for you. In our Odoo customer references, you will also find successfully implemented individual solutions.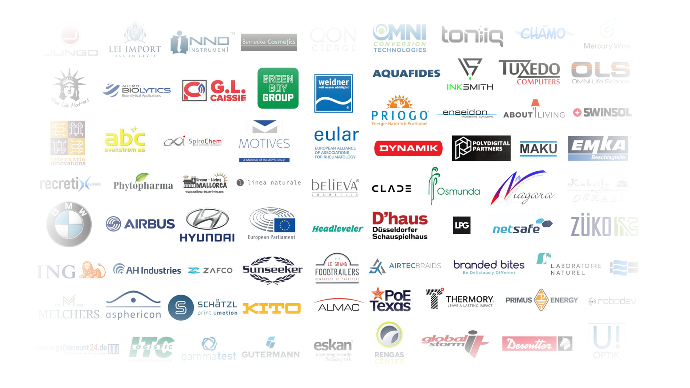 OBS Customer Database
---
All our customer references can be found in our customer database. Here you can filter by industry, scope of business, company size, location and search for keywords.
---
"Dankzij de snelle en overtuigende oplossingen van OBS konden we al binnen 3 maanden live gaan. De operationele samenwerking was buitengewoon goed."

"OBS leverde hetgeen was beloofd. Vergeleken met andere projecten, we hadden een absoluut vlotte implementatie van Odoo dankzij de expertise, knowhow, flexibiliteit en toegankelijkheid van OBS. Het systeem loopt op rolletjes. "

"Odoo allowed our company to efficiently manage a growth from a turnover of $2.4m to $15m in 4 years.

"De introductie van Odoo met OBS was precies hoe ik me een flexibele software-implementatie van moderne bedrijfssoftware voorstel."

"In het bijzonder wil ik ook nog eens uw service / ondersteuning benadrukken. Ik voel me echt in goede handen bij jullie en mijn problemen worden snel begrepen en opgelost zonder er veel aandacht aan te besteden."

"Met Odoo CRM bewaar ik alle informatie over leads en klanten op één plek. Het is geweldig en effectief. "

"Als het op de OBS-ondersteuning aankomt, was alles perfect - snelle feedback en ze hebben er alles aan gedaan om aan de vereisten van Odoo Standard te voldoen."

"We hebben 14 verschillende applicaties vervangen en de omzet met 10% gestegen. "

"We waarderen vooral de snelle hulp, de snelle hulp, de zeer goede bereikbaarheid en de flexibiliteit bij het uitwerken van de bedrijfsoplossingen bij het samenwerken met with OBS."

"Zelfs onze complexe behoeften konden voornamelijk worden beheerd met Odoo standaard, dankzij de focus, de Odoo expertise en de snelle feedback van OBS."

"Odoo biedt een essentieel platform voor ons project management. Zaken zijn beter georganiseerd en transparanter."

"We hebben nu volledige transparantie en kunnen het systeem bedienen vanuit elke plek, hetgeen onze operationele efficiëntie en klantomzet heeft vergroot."

"OBS kan kost-efficiënte oplossingen vinden die dicht bij de Odoo standaard staan, zelfs als de vereisten heel specifiek waren of als er zich aanvullende vereisten voordeden gedurende het project. Consultants waren zeer goed bereikbaar, communiceren transparant en implementeren oplossingen er snel - een flexibele dienstverlening die niet vanzelfsprekend is."

Become one of our references.

Choose OBS Solutions as your partner - take your business to the next level!