This year's Odoo Experience, which took place in Louvain-la-Neuve in Belgium, has been an exciting as well as overwhelming event! Apart from the launch of the latest Version, Odoo 13, with its great new features and amazing updates, two members of the company of our customer "AH Industries" came to join us at the Odoo Experience and held a presentation as well as an interview.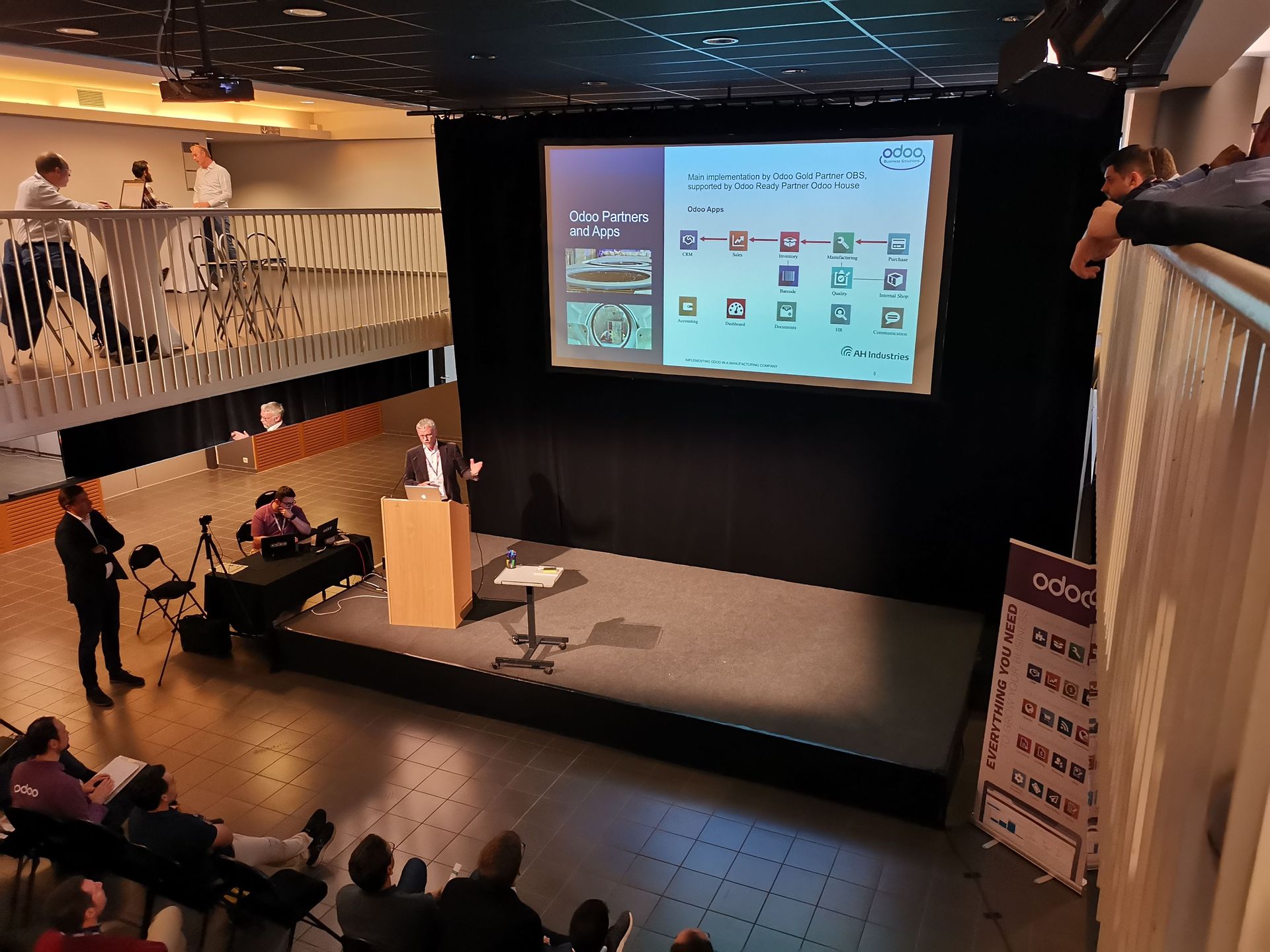 Presentation 
AH Industries
"Implementing Odoo in a Manufacturing Company"
AH Industries is a danish machine steels and metal components manufacturer. In his presentation, Henrik Platz (controller at AH Industries) gave interesting insights in how an international manufacturing company with 350 employees spread over four sites all over the world, managed to implement Odoo together with us as their partner.
Henrik explained some challenges that AH Industries faced when they started to implement Odoo - like changing some processes internally and preparing their employees and the general company culture to adapting to a change in their routines and the usage of a new system.
But he especially pointed out how the "speedy and confident delivery of service" of the "dedicated consultants of OBS" helped a lot in ensuring the successful delivery of the project. Especially the individual programming of a flexible routing system and a subcontracting functionality within the Manufacturing module have added huge value. 
Interview 
AH Industries

In her Interview, Karen Balslev Pedersen (Head of Supply Chain at AH Industries) explained some of the main challenges and successes AH Industries experienced when starting off with the implementation of Odoo. As an internationally operating company, some of AH Industries' requirements were a multi-company, multi-currency and multi-language function, in order to ensure that Odoo can be used on all locations world-wide and by every employee. 
AH Industries sees the main advantages of Odoo in the simplicity of upgrades to later versions, as well as the process-oriented view in Odoo, which makes it possible for every employee to easily comprehend internal processes. 
Watch the full interview by clicking on the link below.